December 1st
Food Forest FUN-Raiser
6:30 PM – Midnight
Dinner buffet begins at 7 PM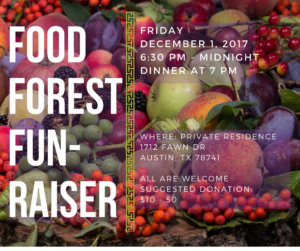 For questions or offerings of food, talent, or time, contact Aly: 469-879-9744, alytharp@gmail.com
RSVP & Stay Updated
2nd Saturday Volunteer Site Maintenance Day
9:00 AM – 12:00 PM
At the 2nd Saturday Volunteer Site Maintenance Day (and every 2nd Saturday of the month), we focus on mulching, weeding, and educating volunteers. If you want to learn about healthy soil creation and forest gardening, this is a great way to get hands on experience. We welcome all volunteers who want to be part of a community interested in food sovereignty, growing food locally, medicinal qualities of plants, and more.
Wednesday Site Days
On first and third (and occasional 5th) Wednesdays of every month, FBFF volunteers meet at the food forest to take care of the land and hang out together.
RSVP for volunteer site days on GivePulse
Have an event you'd be interested in doing? Contact us.