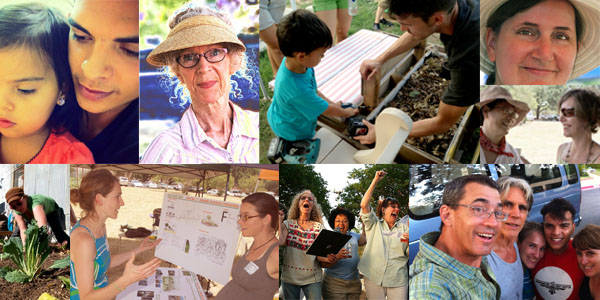 Community energy makes Festival Beach Food Forest a success
We thrive on community engagement in this delightful experiment in the public commons. Everyone is welcome to come visit, explore or lend a hand in this unique section of YOUR Public Park. That's right, this is City of Austin Park Land where a group of people came together to explore social justice, environmental justice and grow food together for anyone to harvest at any time.
Opportunities to come visit include:
First Saturday Plant Walks – 9am – 11:30am
Come any first Saturday of any month at 9am in the morning to walk and learn about the nutritional and medicinal properties of the plants in the food forest. Bring a bag for harvesting too, if you like! After the plant walk, enjoy the shade under the pecan trees to meet new friends and the volunteers who keep the food forest vibrant and learn how you can get involved. We'll also be offering a tea tasting or medicinal demo as well.
Second Saturday Workdays – 9am – 12pm
At Second Saturday we focus on mulching, weeding, and educating volunteers. If you want to learn about healthy soil creation and forest gardening, this is a great way to get hands on experience. We welcome all volunteers who want to be part of a community interested in food sovereignty, growing food locally, medicinal qualities of plants, and more.
Visit anytime!
It's on park land so you are welcome to come at any hour of any day, unchaperoned. (We have educational signage to help you on-site)
RSVP for ALL EVENTS on GivePulse
If you would like to receive our newsletter and other important news just subscribe. You can unsubscribe at any time. 
Interested in a leadership role?
FBFF Is a 100% volunteer run organization. Because of that we are always looking for dedicated volunteers to join our weekly meetings on Tuesdays. Please get in touch by emailing: contact@festivalbeach.org and we can let you know more details about the time and location of the Tuesday meetings.