Want to support the first food forest in a public park in Austin? 
Please take five minutes to send an email to Council!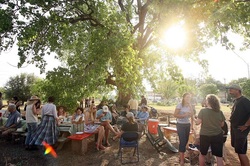 Please email the Holly Shores Master Planning team before August 13th:
Email City Council
Submit Email Via Web Form
If you're from an East Austin neighborhood, say so, and if not, please stand in solidarity.
Here's a sample email (feel free to copy and paste):
As a supporter of urban agriculture in Austin, [an East Austin resident] and a stakeholder in the Holly Shores/Fiesta Gardens/Festival beach/Edward Rendon Park, I am writing to support the grassroots movement for the Festival Beach Food Forest – the first food forest in a public park planned in Austin.
Our neighborhoods – from our backyards to our public parks – are great places to produce healthy food. Showcasing low-water, low-maintenance approaches for edible landscaping in public spaces is an incredible opportunity to support an innovative, sustainable urban agriculture system in Austin.
While this would be the first food forest in a public park in Austin, and the second in the country, Central Texas already has some successful edible forest gardens. Kealing Middle School and East Side Memorial High School recently started similar edible landscaping projects on their school campuses.  We have the permaculture design expertise in Central Austin to make this kind of project happen and it's time to bring such projects to our public spaces.
I am excited to support the Festival Beach Food Forest and look forward to seeing more of its kind in our parks and throughout our neighborhoods.
Sincerely,
[Name
Organization(s)]