With your support, on August 28, City Council approved the Festival Beach Food Forest (FBFF) as part of the Holly Shores Park Master Plan! We're excited and hope you are too. Be on the look out, volunteer opportunities coming soon!
In other news, we're pleased to announce that Festival Beach Food Forest is one of four finalists for the in.gredients community non-profit partner vote!  Voting starts today! In-store voting counts for 75% of the vote, so head to in.gredients  – get some local produce or a cool beverage – and vote for East Feast!
Also, in this installment of East Feast News (click on the links for details):
Short on time, but ready for action?
Vote for East Feast to be in.gredient's next Community Partner! You can also help keep our momentum going by forwarding this newsletter.
Looking for a way to change your world?
If you want to get involved with a grassroots effort to make organically-grown food accessible to the masses – our Outreach teams are meeting regularly. Email us, here, for more details.
---
City Council approves Festival Beach Food Forest!
It's official!  The Festival Beach Food Forest is now part of the 99-acre park plan for Holly Shores / Edward Rendon Sr / Fiesta Gardens / Festival Beach Parks!
Thanks to each and every one of you who expressed your support to Council Members and PARD officials!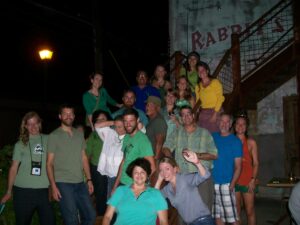 Many voices powerfully expressed the vision for a food forest – you can check out the video recording for #149 here. Together, we are making local, organic food accessible and free!
Approval of the master plan reflects a victory for neighborhood activists who have campaigned for natural tranquility and neighborhood heritage of the park.  In fact, some neighborhood activists have been fighting for protection against commercial development since the 1970s! As a result of neighborhood leaders' clear and confident voices, Council allocated $2 million for essential park improvements including expanded ADA access and public restroom upgrades.
Celebrations will continue with the 3rd Annual Chicano Park Day, hosted by Angelica Noyola of PODER and Team ATX on October 12. You can RSVP and follow details on Facebook.
Taste of History
On a household scale, growing food in the neighborhood is nothing new. Once inhabited by Native Americans, then by German and Swedish farmers, and Mexican American families, the rich soil of the surrounding neighborhoods has supported residents for generations. Building on this legacy, the Festival Beach Food Forest project envisions 2 acres of parkland transformed into a verdant and productive edible forest ­- with no fences. Produce will be freely available to neighborhood residents, the RBJ Center food bank, and other members of the public. Urban Patchwork (FBFF's parent nonprofit), the City of Austin's Sustainable Urban Agriculture and Community Garden Program, Urban Forestry Program, and other city officials are collaborating to support this delicious vision.
For the full press release, check out the news page of the Festival Beach Food Forest website.
---
Be(e) the Change with Festival Beach Community Garden
There are lots of great events coming up at the Festival Beach Community Garden!
This Saturday, 9/13
Come on out to join the monthly community garden work day (held second Saturday of each month). All are welcome!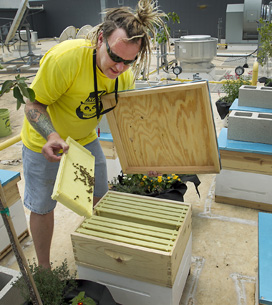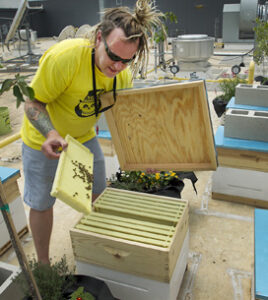 FBCG also offers garden tours at that time!
Plant Sale, Saturday, 9/20
Check out the vegetable and plant sale at Festival Beach Garden on Saturday, Sept 20 from 9:00-2:00, 35 Waller St. 78702. They'll also be having a free herb walk with Ginger Webb of Texas Medicinals. Stop by before or after volunteering in the garden with Blackshear Bridge!
Be(e) The Change, 9/27
Come celebrate Gandhi's legacy with a day of service and a ribbon cutting ceremony for 10 new beehives at the Festival Beach Community Garden!
Be The Change, Austin (http://bethechangeaustin.org/) is part of a national day of service honoring Mahatma Gandhi's legacy, near his Oct 2 birthday.
Thanks to Walter Schumacher of Central Texas Bee Rescue- the 10 donated hives will house great pollinators and become a site for beekeeping demos and classes! http://honeybeekind.com.
---
Get planting with Blackshear Bridge!
Blackshear Bridge
 is coordinating volunteers for Blackshear Elementary's school gardening enrichment program, which teaches kids about sustainability, nutrition, and gardening.
Here are some ways community members, parents, and organizations can volunteer on Saturday, September, 20:
Sign up for Sustainable Food Center's School Garden Leadership Training hosted by Blackshear (

Sat. 9/20

). Email  Katie@sustainablefoodcenter.org for more details.
Participate in Friends of Yellow Jacket Garden Community work and fun day (Sat. 9/20) from

10-Noon, followed by a pizza party (thanks, East Side Pies!) 

Show up at the school garden to the right of the entrance at    1712 E. 11th Street. Email hello@blackshearbridge.org for more info.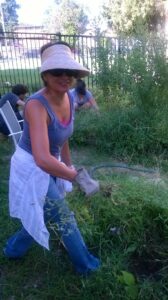 Other ways you can volunteer:
Lead a lesson during Enrichment Time on Fridays in Yellow Jacket Garden,

1:30-2:30

.
Volunteer to accompany a Blackshear Teacher and their class in the garden.
Get ready to plant a little forest of 40 new trees with Treefolks, Austin PARD, and other neighbors, 

Friday, November 7

!
Please contact Donna donnaleehoffman@gmail.com 512-299-5776 or Amanda ammasino@htu.edu to volunteer.
Follow Blackshear Bridge on Facebook for news about other community garden and park days at Blackshear in September and October.
---
Build Green Justice with Huston-Tillotson!
On Saturday, September 25, 8:30 – 4:30 pm, join Huston-Tillotson's DUMPSTER Project and Green Is the New Black student leaders and community partner, Ecology Action, for the 1st Annual  Building Green Justice Forum.  This one day forum is for students, organizers, and community members to discuss what Environmental Justice organizing looks like – on campus and in the community.
The theme of the day: How can we work and learn together to empower environmental equality in our community?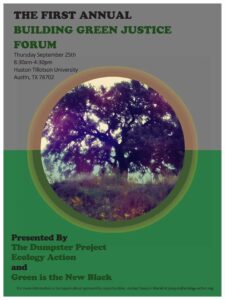 Highlights include:
A

Community Organization Panel

featuring Austin Youth Riverwatch, Cooperation Texas, and Texas Campaign for the Environment moderated by Dominique Bowman of Huston-Tillotson University, Food for Black Thought, and City of Austin/Travis County Sustainable Food Policy Board.
Presentation and Critical Discussion of environmental justice and Austin's demographic shifts by Dr. Eric Tang, of the University of Texas' Division of Diversity and Community Engagement.
Workshops on consensus building and EPA database tools.
HT campus tours led by students of Green is the New Black.
Free and open to the public!
Please RSVP here on Eventbrite
---
Permaculture Potluck 9/12
Who: Welcome to all!
What: A Potluck and permaculture chat
Where: Selwyn Polit's Place, 5512 Coventry Lane,Austin, 78723
Want to just kick back and chat about cultivating healthy food with permaculture? Selwyn Polit is hosting this family friendly Permaculture potluck.  He noted:
Please bring a dish, snack or drink (or failing that, just yourself) for a gathering of like minded permaculture friendly folks to connect, talk about what we do and what we'd like to see happen in the future. No need to RSVP, just show up at 6-9pm.
http://www.meetup.com/AustinBackyardPoultry/events/198808742/