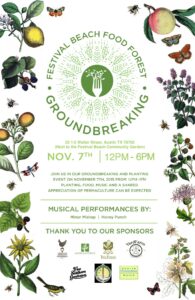 Our vision to create a center for connection, growth and celebration at the edge of the Holly Shores/ Edward Rendon Sr. Park at Festival Beach is finally coming to fruition! (Yes, that's how you spell fruition, with fruit in it). Fruit and nut trees will be planted in about a week and a half after the earthworks are finalized. Some of you may have noticed the orange tree protection fences and berms and swales on the site already? It's taken three years of collaborative efforts to negotiate the start of the Phase 1 Pilot Program and it has not been an easy task as this will be one of the first food forests on Public Park Land in the country to date! To do it we have successfully united many voices that want to keep this neighborhood park tranquil, diverse, vibrant and multi-generational. Together we have created such a powerful alliance that the Parks Department has had no choice but to listen to it. This is community organizing at its healthiest! We couldn't have done it without the help of our city staff, neighbors, friends and family.
On this historical date it would be an honor to have YOU with us as we come together to show our support of edible landscaping in a public space for all… and PLANT A TREE! To sign up to plant a tree click here for the TreeFolks volunteer Sign Up Page. It's free, easy and there will be plenty of tools and training for you to be a successful forester.
Together with the significant support of TreeFolks, Urban Patchwork and a grant from American Forests we are going to grow an edible forest garden on public land that nourishes, educates and inspires! We also could not have managed the earthworks and event preparations without the huge contributions from YardFarm, Austin Permaculture Guild, Earth Repair Corps, Fine Southern Gentlemen and Popmolar Creative.
---
The schedule of the November 7th Tree Planting and Groundbreaking Picnic is as follows:
11:00am – 12:00pm
Core team arrives
Set up for tree planting
12:00pm – 3:00pm
Tree planting facilitated by TreeFolks

Welcome
Volunteer Training
Tree Planting
Mulching
3:00pm – 5:00pm
Groundbreaking Picnic

Announcements from community members and supporting organizations

Festival Beach Food Forest
TreeFolks
American Forests
PARD
Holly Neighborhood Coalition
PODER
Pedernales Neighborhood association
Festival Beach Community Garden
RBJ
ETLCNA
ECCNPT
Urban Patchwork

Educational tables, massage, yoga and kids events and a special thanks to our supporting organizations:

ABGB
Agana
American Forests
Austin Discovery School EcoWellness Program
Austin Permaculture Guild and Earth Repair Corps
Blackshear Elementary
East Cesar Chavez Neighborhood Planning Team
East Town Lake Citizens Neighborhood Association
Compost Pedallers
East Side Yoga
Festival Beach Community Garden
Festival Beach Food Forest
Fine Southern Gentlemen
Guayaki Yerba Mate
GeoGrowers
Hanes Geo Components
Holly Neighborhood Coalition
Huston-Tillotson University and Green is the New Black
Mr. Natural
Native Plant Research Institute
One Love Healing Center
Organization International of Human Development
PODER
Pedernales Neighborhood Association
Popmolar Creative
Rebekah Baines Johnson Center
Sustainable Food Center
Streamlyne Creative
Taco-Mex
Taniguchi Architects
TeamATX
Texas Medicinals
TreeFolks
Urban Patchwork
Urban Association of Texas
Vista Planning and Design
YardFarm

Refreshments

Boxed lunches for Volunteers
Refreshments for Volunteers
All other participants will be encouraged to BOYP (bring your own picnic)

Entertainment

Honey Punch
Mindz of a Different Kind
Plus a handful of local musicians
5:00pm – 6:00pm
Breakdown, clean up and take photos!
Click here to sign up to plant a tree on the TreeFolks volunteer Sign-Up Page. We have 100 trees and need 100 of you to plant them. It's a historic moment, it's free, easy and there will be plenty of tools and training for you to be a successful forester. 
To find out how you can become an active part in the ecosystem click on the Volunteer Page and the Donate Page. 
---
See our huge thank you to Urban Patchwork, TreeFolks and American Forests for the grant and support that makes this all possible.